Vivian Esper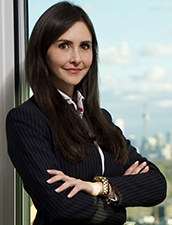 Vivian Esper is a tax lawyer at Barrett Tax Law and a member of the Law Society of Upper Canada and the Brazilian bar.
Vivian practised tax law in Brazil for over 7 years at the litigation department of one of the most successful law firms in South America. She moved to Canada to attend the Masters at Law Common Law (LL.M-C.L) program at the University of British Columbia.
In 2016 Vivian was accredited by the Federation of the Law Societies of Canada after which time she completed her Articles at Barrett Tax Law.
After successfully completing the lawyer licensing program, she was called to the Bar by the Law Society of Upper Canada in 2017.
Vivian's years of experience and international background give her a unique perspective. Performing her role with empathy and her ability to think outside the box, Vivian has already helped numerous Canadian taxpayers with their complex cases.
Vivian speaks English and Portuguese.